Fish Food /
Hikari Betta Bio-Gold - Fish Food 20g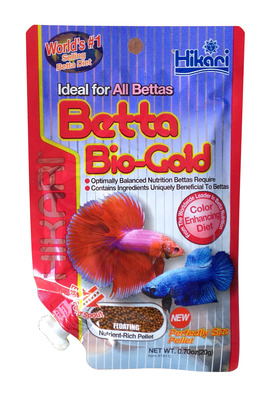 Item # KH19110
Description:
Floating pellet
Manufacturer:
Hikari
Features
Specialist fish food.
Betta Bio Gold.
Reduces stress and related illness.
Optimum nutritional balance.
Never clouds the water.
Floating pellet.
Hikari Betta Bio Gold has been developed after considerable research into the nutritional requirements of Betta's
This floating pellet,which won't cloud your water.
Utilizes Bio-Technology to promote excellent coloration while meeting 100% of your pets's nutritional needs.
Give your Betta a food made especially for them.
Hikari Betta Bio Gold includes premium-select fish meal which provides a superior protein source.
Look for our other premium diets which your Betta's will also enjoy,like Hikari Bio-Pure Frozen Blood worms and Freeze Dried blood worms.
AU$13.60
Copyright (c) 2021 The Aquarium Shop All rights reserved.