Fish Food /
Hikari Bio-Gold Discus Pellets Fish Food 80g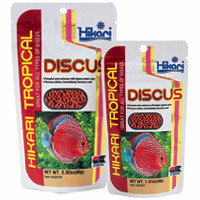 Item # KH22316
Manufacturer:
Hikari
Features
Hikari Discus.
Great for all types of Discus.
Powerful color enhancer with higher protein value.
Porous sticks,immediately become soft.
Science diet for Discus.
The natural color enhancing ingredients produce natural brilliant colors in a relatively short period of time.
A high protein,porous stick that immediately becomes soft and sponge-like when fed.
The food is easily digested and will not crumble or fall apart even during your Discus unusual eating routine of repeatedly taking the food in and spitting it out.
This helps reduce water quality problems and clouding which is customary with other foods.
Made from a perfect blend of proteins,indispensable amino acids,necessary vitamins and selected minerals.
Rich in stabilized vitamin C which promotes resistance to stress and immunity to infectious disease.
For unequalled and extremely healthy growth rates feed Hikari Tropical Discus.
AU$22.05 (Was AU$28.55 you save AU$6.50)
Earn 220 points with this purchase
Copyright (c) 2020 The Aquarium Shop All rights reserved.