Fish Food /
Hikari Sinking Wafer Fish Food 25g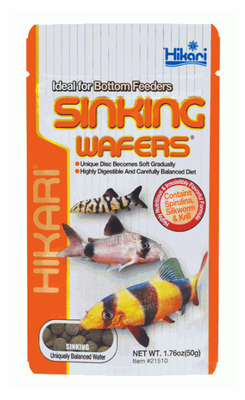 Item # KH21503
Manufacturer:
Hikari
Features
Hikari Tropical Sinking Wafers.
Uniquely Shaped Disc Becomes Soft Gradually.
CompleteBalanced Nutrition.
Excellent Palatability.
Great for Catfish,Loaches and Bottom Feeders.
A Scientific Diet for Catfish,Loaches and other bottom feeders.
Our extensive research helped us offer superior palatability,ready acceptance and easily digestion.
The unique wafer shape was developed for bottom feeders which have small downward mouths and must swallow to eat.
Contains a complete and balanced combination of nutritious ingredients supplemented with the vitamins and minerals bottom feeders require for good health.
Contains stabilized vitamin C which promotes resistance to stress and immunity to infectious disease.
Will not dissolve,yet nor cloud your water.
AU$5.95 (Was AU$7.20 you save AU$1.25)
Earn 60 points with this purchase
AU$9.95
Was AU$10.90
Saving AU$0.95


Hikari Sinking Wafer Fish Food 50g
AU$16.35
Was AU$18.60
Saving AU$2.25


Hikari Sinking Wafer Fish Food 110g
Copyright (c) 2020 The Aquarium Shop All rights reserved.