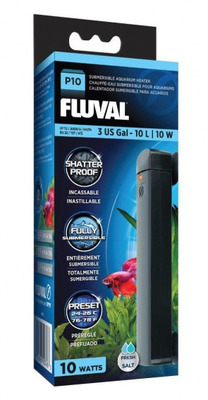 Item # MRN23
Description:
Fully submersible heating (A743)
Manufacturer:
Fluval
Features
Whether in nature or in an aquarium, fish are sensitive to temperature fluctuations and can suffer from immune system shock if sudden shifts occur. Investing in a reliable heating system that produces consistent water temperature will help ensure the well being of your livestock.
Waterproof design allows easy positioning inside the tank
LED running lamp illuminates to indicate when product in use
Shatterproof polymer construction protects the heater and tank inhabitants from damage
Heater is pre-set to maintain a temperature of 24-26 °C (if room temperature is greater than 8 °C below 24-26 °C use a higher wattage heater)
Easy and secure installation
LxWxH 13.5 x 2 x 1.5 cm

AU$33.95
Earn 339 points with this purchase
Copyright (c) 2020 The Aquarium Shop All rights reserved.