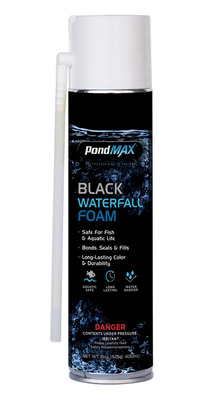 Item # 21PF180
Description:
Bonds, seals and fills
Features
Fish Safe
UV Stabilised
Commercial Grade
Yields:
- 1/4inch (6.3mm) bead gives 700metres
- 3/8inch (9.5mm) bead gives 312metres
- 1/2inch (12mm) bead gives 175metres
PondMAX Black Waterfall Foam Landscape Filler / Adhesive is a black colored foam formulated to retain its dispensed color and blend naturally into the surrounding landscape, even when exposed to direct sunlight.
It bonds quickly to porous or non-porous rock, stone, cement, wood and cloth and is ideal for replacing loose mortar in rock walls.
Waterfall foam can also be used to direct water flow in pond or waterfall applications and itís safe for use around fish or plants.
AU$29.95
Earn 300 points with this purchase
Copyright (c) 2020 The Aquarium Shop All rights reserved.