Fish Food /
Pro's Choice Tropical Fish Food Large Floating pellets 120g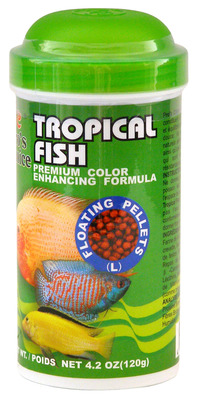 Item # FS86
Description:
*** ON SPECIAL OLD STOCK ***
Manufacturer:
Orca
Features
Pro's Choice Tropical fish floating pellets.
Premium colour and Enhancing formula.
Pro's Choice Tropical Fish Floating Pellets are superior and nutritionally balanced food for all freshwater fish.
Contain natural colour enhancing ingredients and a stabilized form of vitamin C, which are vital for disease resistance.
High digestibility ensured.
Pro's Choice Tropical Fish Floating Pellets will not cloud water when fed correctly, avoid overfeeding.
AU$2.95 (Was AU$9.95 you save AU$7.00)
Earn 30 points with this purchase

Hailea ACO-318 Air compressor
3600L/Hr (60L/min). Genuine Hailea product with Australian plug and full warranty from our local suppliers.
Copyright (c) 2020 The Aquarium Shop All rights reserved.