Fish Food /
Bioscape Insectivore Tropical Fish Flake Food 50g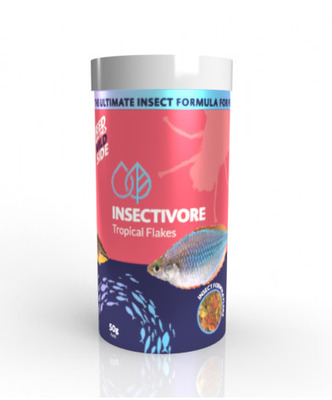 Item # INS02
Description:
The Ultimate Insect Formula for Fish
Features
A natural fish diet in the wild contains insects so naturally a fish food containing insects not only works in nature but also in aquariums and your fish will love it.
Essential nutrients are vital for aquarium fish and contained in this food providing both plant and insect proteins to help with development growth, colour and vigor.
You will notice an improvement colour, fins, scales and body.
All natural
Sustainably sourced
Multi protein
Premium formula
With black soldier fly larvae and mealworm meal
High protein natural formula
Supports fishes immune and digestive system
Enhances fishes natural colour
Added multi-vitamins and astaxanthin
Ultra vitamin complex
Manufactured in Europe under strict manufacturing protocols
Feeding instructions:
Feed as much as fish can eat in two minutes, two or three times daily. We recommend that you test your water regularly to avoid water quality problems caused by over-feeding.
Storage Instructions:
Once opened store in a cool dry place.
Composition:
Mealworm Meal and black soldier fly larvae meal (insect meal), brewers yeast, wheat glutton, wheat flour, soya flour, fish hydrolysate, herring meal, shrimp protein hydrolyzed, garlic, potato starch native, shrimp meal, mealworm oil, salmon oil, carob, paprika, alfalfa, spirulina, turmeric, carrot, crab eggs.
Vitamin and Mineral additives:
Vitamin A, Vitamin D3, Vitamin C, Vitamin E, L-lysin, DL-methionin, betain, beta-glucane, omega 3, omega 6, omega 9, iron, iodine, copper, manganese, zinc, astaxanthin, L-carnitin.
Analysis:
Crude Protein 46.2%
Crude Fat 8.3%
Crude Fibre 2.5%
Crude Ash 5%
Moisture 8%
AU$12.35

Bioscape Insectivore Tropical Fish Flake Food 20g
The Ultimate Insect Formula for Fish

Bioscape Insectivore Tropical Fish Flake Food 100g
The Ultimate Insect Formula for Fish
Copyright (c) 2022 The Aquarium Shop All rights reserved.