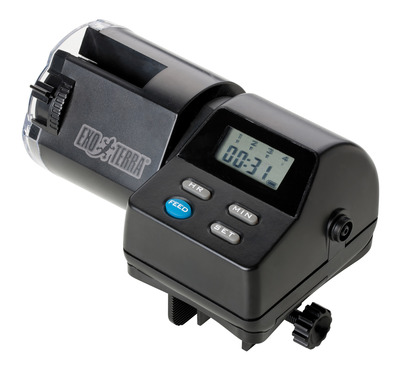 Item # RP208
Description:
Feeds up to 4 times a day (PT3815)
Manufacturer:
Hagen
Features
Programmable automatic feeding unit
Extra large turtle pellet chamber
Great vacation feeder
Fits Exo Terra Turtle Terrariums
Battery operated (uses 2 AA batteries, not included)
Accommodates most round and stick pellets
The Exo Terra Turtle Feeder can be programmed to feed up to 4 times per day. Pellet portions and feeding times can be adjusted depending on the size or quantity of turtles. Using an automatic feeding unit reduces the risk of overfeeding and avoids pollution of the terrarium water by left over turtle pellets.
An especially designed turtle pellet chamber with a high holding capacity (200 mL) ensures that your turtles can be fed over a significant period of time. The clear cap on the pellet chamber allows close monitoring of the available pellets. When using Exo Terra Aquatic Turtle Pellets the feeder allows you to offer your turtles a complete diet, even during longer periods of absence.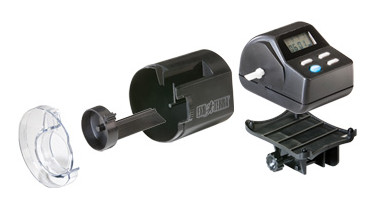 AU$83.80
Earn 800 points with this purchase
Copyright (c) 2019 The Aquarium Shop All rights reserved.